Catherine H. Norwood, P.E., Biography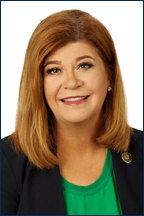 Catherine H. Norwood, P.E. is a senior consulting engineer with Hickman McClaine & Associates. She earned a B.S. in Petroleum Engineering from Texas Tech University and is a licensed Professional Engineer in Texas. Norwood is a member of the Society of Petroleum Engineers and is involved with their "Introduce a Girl to Engineering" program and has served on the national Member Benefits Committee and as chairman of the Permian Basin Reservoir Study Group. She is also a member of the Society of Petroleum Evaluation Engineers and has served as Chairman of the Midland Chapter. Norwood has been inducted to the Texas Tech Petroleum Academy.
Norwood currently leads a Backpacks & Blessings children's food program at First United Methodist Church of Midland. She is a former board member of Leadership Midland, Midland Symphony Guild, Keep Midland Beautiful and the Multiple Sclerosis Society.
Norwood resides in Midland with her husband Danny and they have two daughters, Libby, a chemical engineer, and Carly a student at the University of Oklahoma.