Board Member Biography
Marguerite "Margo" McClinton Stoglin, Ph.D.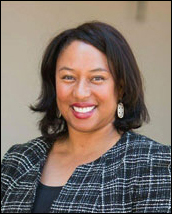 Dr. Marguerite (Margo) McClinton Stoglin is a Senior Vice President, Philanthropic Strategist with the National Consulting and Advisory Practice group at Bank of America Private Bank. Based in Dallas, Stoglin works with the Philanthropic Solutions team providing custom consulting services to both grantmaking and operating nonprofits. Her areas of expertise include education, social services and the faith-based communities.
Stoglin has served in a number of key roles with nonprofits including Washington University in St. Louis, Washington and Lee University, Paul Quinn College and IGNITE National. She has received numerous recognitions such as the Dallas Business Journal Minority Leader Award and the Dallas Business Journal Women in Business Award. For a decade, Stoglin managed her own consulting firm providing strategic guidance to both nonprofit and for-profit organizations. She enjoys partnering with key stakeholders to provide the resources needed to serve all communities.
She received her undergraduate degree from Emory University. She has two master's degrees. The first is in education is from Harvard University, and the second in business from the University of Texas at Dallas. She also received her doctorate from Florida State University.